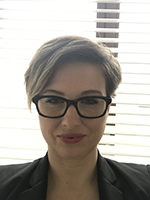 Joanna Madejska – HR Project Manager/Founder of HEAD HUNT
Fields of activity: Direct/ Executive Search, Competence Audits, Outplacements
15 years of work experience in HR consulting. She has run her own company HEAD HUNT for ten years. She specialises in implementing Executive Search projects, mostly on directorial and managerial positions in sales, export, marketing, trade, marketing, financial, HR and logistics departments. She is experienced in dealing with the following markets: FMCG / Production, Fuel / Power / Automotive industry, PHARMA and the MEDIA. Earlier on she worked in reputable international HR companies for five years, i.a. as Sales & Marketing Division Manager, Logistic and Media in HAYS and Senior Consultant in the RANDSTAD Company.
As a Consultant, she is proud by having the opportunity to deal with Clients such as: ANIMEX, HORTEX, FEDEX, AGROS NOVA, CAMPARI INTERNATIONAL, BONDUELLE, RWE STOEN, VTS CLIMA, EUROHEAT HQ GROUP, FEDEX, POLKOMTEL, PONT PACKAGING, PANDA SECURITY, CASTROL LUBRICANTS, UNIVEG GROUP, SAATCHI & SAATCHI, GERMANOS GROUP (currently PLAY MOBILE), EGMONT POLSKA S.A., PGNiG S.A., EBCC S.A./ACE, SCANIA, IDC EUROPE, CHIMIREC - SEPTOS, CANON, DHL INTERNATIONAL, GE TIP TRAILER, BMW/ INCHAPE MOTOR, CD PROJEKT, DISCOVERY POLSKA, ORBIS TRAVEL, NETIN and CITIBANK HANDLOWY S.A.
She holds a master's degree in sociology, and has graduated from full-time higher education studies at the Institute of Applied Social Sciences (ISNS) of the University of Warsaw, specialising in Human Resources Management. She is a certified consultant of THOMAS INTERNATIONAL. She has been a member of the POLISH HUMAN RESOURCES MANAGEMENT ASSOCIATION since 2002 and its Board Member since 2009. In 2011 she was Member of the Certification Committee for consultants of recruitment companies, organized by the Polish HR Forum and Polish Confederation of Private Employers Lewiatan (PKPP Lewiatan) in the first edition of its launch. In her private life she is fascinated by painting and travelling.
Larger DIRECT / EXECUTIVE SEARCH Projects:
FMCG:
CAMPARI INTERNATIONAL: Recruiting of Country Manager / cooperation on an international scale
ANIMEX: Filling the posts of high, medium and specialised level management in the sales department (field and key accounts), trade marketing, HR and quality
HORTEX Holding S.A.: Filling numerous posts of medium-level management in sales department (field and key accounts)
BONDUELLE: Filling higher management posts in key accounts and marketing departments
PRODUCTION:
EUROHEAT GROUP: Filling high-level management posts within the entire CEE region
PONT PACKAGING: Recruiting Sales Director to a start-up project / cooperation on an international scale
LOGISTIC:
FEDEX Trade Networks Transport & Brokerage (Poland): Senior Finance Controller
DHL Express: Key Account Manager in Automotive business
UNIVEG GROUP: Recruiting of Export Manager and carrying out an individual competence Audit project for the Director of Logistics
OIL & GAS/ ENERGY/ AUTOMOTIVE
RWE STOEN: Filling numerous posts of medium-level management in sales department, marketing and project management
CASTROL LUBRICANTS (BP Group): Filling posts of medium-level management in sales department (field and key accounts)
POLSKIE GÓRNICTWO NAFTOWE I GAZOWNICTWO S.A.: Recruiting of Commercial Director
CHIMIREC – SEPTOS: Filling numerous posts of high and medium-level management in sales department (field and key accounts), and logistics / cooperation on an international level
EUROPEAN BRAKES AND CHASSIS COMPONENTS S.A. / ACE: Recruiting of HR Manager
INCHAPE MOTOR POLSKA BMW Dealer: Recruiting of Fleet Sales Manager
PHARMACY
ACP PHARMA/ MEDIQ: A few months interim management contract in HR area responsible for recruitment execution for key management and directors level roles in headquarter as well as financial services center and logistics. Around 25 recruitment projects (ex. Category Management Director)
PALL CORPORATION: Recruitment of Business Development Director CEE
IT/TELCO
POLKOMTEL S.A.: Recruiting of Sales Director in the B2C segment
IDC EUROPE: Recruiting of Key Account Manager for the entire CEE region
PLAY (GERMANOS GROUP): Recruiting of Commercial Director and Senior Product Manager
MEDIA
EGMONT Polska S.A.: Filling numerous posts of high and medium-level management in sales department (field and key accounts), analysis department and PR
COMMUNICATION UNLIMITED: Recruiting of Client Service Director
FABRYKA POMYSŁÓW/ MEDIA SHOP: Senior Sales Executive / Account Manager
STAFFING type of projects
CITIBANK HANDLOWY: Mass recruiting of Sales Representatives, Telemarketers, Key Accounts, Team Leaders in entire Poland, in total 270 employees (1/3 of the entire sales team in 2003-2004
TRAINING and COACHING:
PLASMATECH – Training Recruitment Consultants (10 people) in Direct / Executive Search project management and a series of individual coaching sessions with Consultants
ASSESSMENT / DEVELOPPMENT CENTRE:
FEDEX Trade Networks Transport & Brokerage (Poland) – Carrying out a competence audit for all high-level managers
The participation in an Assessment / Development Centre project carried out for all managers (directors and deputy directors) for BGŻ Bank and Rabobank (merger)